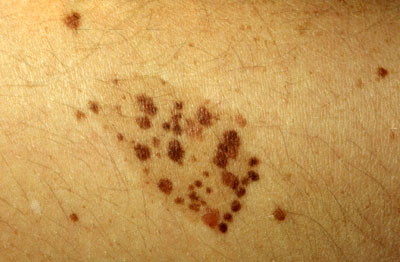 Nevus Spilus, also called speckled lentiginous nevus, usually appears at birth and affects 1-2% of the population so I frequently encounter this skin lesion in both my The Woodlands dermatology and Conroe dermatology offices.  A Nevus Spilus is a melanocytic nevus and has the clinical appearance of a "chocolate chip cookie" as there are small black macules scattered throughout a circular tan background.  The black macules are actual nevi, whereas the tan background is simply hyperpigmented skin.  The black nevi within a Nevus Spilus need to be followed as one would with any mole.
Dermatologist Dr. Perri Can Help Evaluate Your Skin Lesion
If there are changes in size, color, shape, or symptoms, a board-certified dermatologist needs to evaluate the Nevus Spilus to ensure cancerous changes are not occurring.  In most cases, Nevus Spilus is an isolated finding, but it can be found in conjunction with Nevus Flammeus, a vascular lesion, in a genetic syndrome called Phakomatosis Pigmentovascularis in which the patient has systemic findings such as muscular weakness and other neurological sequelae.