Texas Raised, Texas Trained – Anthony J. Perri, M.D.
When you begin searching for a dermatologist, you might find yourself quickly overwhelmed with options. Many physicians are primarily focused on cosmetic procedures, but what if you need a dermatologist who treats only medical skin conditions?
Dermatologist Dr. Anthony J. Perri's interest in dermatology began when an early diagnosis of melanoma saved his father's life. He knows firsthand how important providing timely quality service is to your health, which is why he's built his practice with added flexibility for your schedule and a focus on understanding your needs. Additionally, Dr. Perri is Texas raised and Texas trained, so you'll always feel at home in his care.
Skin Cancer Checks: Early Detection is Key
The longer any form of skin cancer is allowed to persist, the more difficult it can be to treat, but especially in the case of melanoma, which is more likely to spread to other areas of the body, time is not on your side. Often, skin cancers begin as lesions that aren't much different from normal skin and can usually only be identified by a dermatologist. Patients should report any of the following as soon as possible:
Skin bumps or growths that are pearly or waxy, white or light pink, flesh-colored or brown
Skin sores that bleed easily and/or do not heal
Oozing or crusting spots in a sore or a lesion with a sunken area in the center
Irregular blood vessels in or around a skin lesion
The appearance of a scar-like sore without having injured the area
Aside from these, it is important to monitor your skin for any changes. Even something as innocuous as a slight change or irritation in a mole can be sign of something more. Regular skin cancer checks are essential for early detection, and even if the area of concern is diagnosed as benign, you will have peace of mind in this knowledge.
Acne Treatment and Scar Avoidance
Acne is a skin condition affecting millions of patients beginning in pre-teen years and, in some cases, lasting well into adulthood. Acne can cause decreased self-esteem, self-consciousness, and the scars it often leaves behind can last a lifetime. Acne is generally classified into one of 3 categories:
Mild: typified by small blackheads, whiteheads, or pustules appearing at or near the skin's surface. In some cases, mild acne can sometimes be controlled at home by gently washing twice daily and the use of topical treatments such as can benzoyl peroxide and/or salicylic acid.
Moderate: deeper and more extensive, moderate acne usually requires dermatological help in the form of over-the-counter or prescription medications.
Severe: presenting as deep cysts, inflammation, and extensive skin damage, severe acne often requires additional dermatological intervention including drug therapies and occasionally steroid injections to treat effectively.
Even in mild cases, the best way to avoid permanent scarring is to see a dermatologist. Residents suffering from acne should make an appointment with Dr. Perri to determine which treatments are best.
(expand )
(close )

Dr. Perri is far and away the most professional, caring, attentive, and knowledgeable doctor I have ever had the opportunity to meet. So many doctors fake the caring portion of patient treatment but Dr. Perri is genuine in his concern for his patients. I would highly recommend him!!!
I had gone to my primary doctor for years for a rash. To just be told that I had poison ivy. I wasted money and time on this!! I finally went to see a derm out of frustration. My experience with Dr.Perri and his staff was very delightful. I was told by Dr.Perri that I […]
Dr. Perri is excellent! I have been going to him for over a year and he is the best dermatologist that I have seen in the greater Houston/Conroe area. I am always able to get an appointment in a timely manner. Thank you Dr. Perri.
Today was my 1st appointment with Dr. Perri and I was extremely impressed! The office staff and nurses were very friendly and professional. Dr. Perri was very professional, kind, and shows genuine concern for his patients. He seems extremely knowledgeable in his field, and he was very easy to talk to. I wish that all […]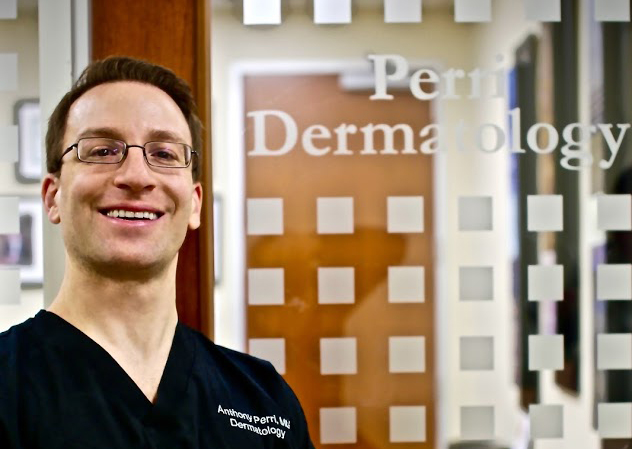 The Importance of an Annual Skin Exam
Developing a routine of monthly self-exams is very important. Aside from self-checks, though, it's important to have annual skin exams, by a dermatologist as a board-certified dermatologist can often detect things you might miss. During these exams, you should point out any skin abnormalities, such as new, changing, or strange looking symptomatic moles or skin lesions.
Of particular concern is melanoma, which tends to run in families. Annual skin exams can help monitor and detect worrisome changes as early as possible on moles and other potential warning signs over time to ensure they don't become a cause for concern.
Latest Blogs
What Causes Moles to Suddenly Appear in Adults?
Sometimes adults are surprised to discover that new moles have appeared on their bodies. And the discovery often makes them wonder, "How did this mole get here?" While most moles appear in childhood or within your first 20 years of life,...(read more)
What Conditions Does A Dermatologist Treat?
Unfortunately, many men and women do not see a dermatologist on a regular basis. This means that they often aren't sure what conditions one could treat. The truth is, a dermatologist like Dr. Perri of Perri Dermatology, can treat many different...(read more)