Texas Raised, Texas Trained
Dr. Perri became a dermatologist after seeing how a routine skin cancer exam saved his father's life from deadly melanoma. He attended medical school in his home state of Texas, graduating from Baylor School of Medicine before completing a dermatology residency at the University of Texas. Today, Dr. Perri is known for his clinical knowledge, compassionate bedside manner, and passion for making medical dermatology as accessible as can be.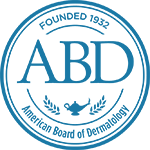 In the Media
Dr. Perri has been the subject of several media publications because of his work in the field of medical dermatology. We invite you to explore some of the publications about Dr. Perri and the care he provides.

New Patient Forms
We want your appointment at Perri Dermatology to be as smooth and seamless as possible. To help achieve that goal, we have provided all relevant patient forms for you to complete in advance. By filling out these forms at home, you can save a lot of time when you come into our office. If you have any questions, please do not hesitate to contact our team directly.
Our Patients Love Us
The Best Dermatologist. He has a wonderful bedside manner and is so friendly. His staff is fantastic and I never have to wait to get an appointment. I would not go anywhere else. I recommend Dr. Perri to all of my friends.
Ann M
Dr. Perri is a friendly, well-skilled professional who cares about his patients. He recently performed surgery on me and it was quick, painless and thorough. Totally recommend this doctor and his practice.
Doug B
This was the best experience I've ever been had at a physician. Everyone was friendly and professional. The appointment was short and efficient. I definitely recommend!
Lauren B
The Importance of an Annual Skin Exam
Skin cancer and other malignancies can often form without our knowing it. In fact, you may have skin cancer developing without even realizing it. That is what makes having an annual skin exam so important. Assessment from a trained professional will help you catch skin cancer in its earliest, most formative stages, potentially allowing for early and effective intervention. Additionally, an annual skin exam provides opportunities for you to ask any questions you might have about practicing proper skin care or sun protection. We welcome all adults to schedule skin exams on an annual or even a biannual basis.

Helpful Resources
At Perri Dermatology, we are passionate about educating our patients, and providing them with all the resources necessary to take care of their skin. We invite you to take a look at some of our favorite organizations that assist with skin health, melanoma treatment, and more.

Accepted Insurances
One of our goals is to make medical dermatology as widely accessible as can be, ensuring that everyone who needs clinical care can receive it. To that end, we are pleased to accept a number of insurance plans. Contact our office for any assistance with the insurance claims process.