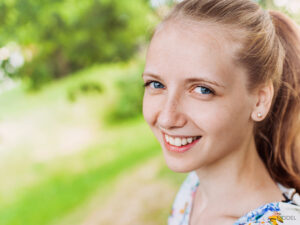 We all know it's true, blemishes like to pop up at the most inopportune times, and nobody is immune. But for those patients who deal with constant breakouts that affect their everyday lives, prescription acne treatment with Dr. Perri may be in order.
About 50 million men, women, and teens deal with acne. That's an overwhelming number of people suffering from skin that often causes embarrassment. But why does acne occur? And is it really because you wear makeup? I mean, grandma is always right, no?
In this blog, we'll be debunking 3 of the most common myths surrounding the causes of acne, so keep reading.
Myth #1: Makeup will make your acne worse.
Makeup does not make your acne worse; however, patients who choose Dr. Perri for acne treatment will be encouraged to wear makeup products that are non-acnegenic or non-comedogenic in nature. Products with this labeling will not clog your pores or make your acne worse. You may even be able to find some products that contain benzoyl peroxide in them, which helps fight acne while you're wearing your makeup!
If you suffer from severe acne, talk to Dr. Perri about which makeup products he recommends, to ensure that your acne treatment is successful, and you don't experience a flare-up.
Myth #2: Sunbathing will help clear your skin.
This could not be further from the truth! Effective acne treatment does not include harmful UV rays! In fact, Dr. Perri always stresses the importance of adequate sun protection to every patient he sees.
The best a suntan will do is temporarily mask the appearance of your acne. At its worst, sun exposure will make your skin dry and irritated, lead to premature aging, and even cause skin cancer! Make sure you always wear SPF on your skin daily, especially when you know you'll be in the sun for an extended period of time. To protect your face and prevent more acne, choose a sunscreen that is non-comedogenic or non-acnegenic. These specifications indicate that the product won't clog your pores.
Myth #3: Popping your pimples will make them go away faster.
While popping your pimples seems to make them less noticeable, the truth is that doing so can cause them to remain on your face or body for much longer. When you pop a pimple, bacteria are introduced into the skin, which leads to more intense redness and swelling around the pimple. It could even cause scarring to form or lead to infection.
What Truly Causes Acne?
While we all think we know what causes acne because our parents and grandparents drilled their beliefs into our heads as teens, in reality, acne is caused by four main factors:
Genetics
This is the number one reason people get acne—it is passed down from generation to generation.
Hormones
The craziness of teen hormones is what causes increased acne during this age range. For adults, changing hormones throughout life can also lead to adult acne, which requires acne treatment in the same way teenage acne does.
Stress
Residents who suffer from extreme stress often suffer from acne. In fact, there is a scientific link between the two.
Menstrual Cycle
Women are much more likely to develop acne as a result of hormonal changes related to their menstrual cycle. Many women have prescribed birth control pills as part of their acne treatment with Dr. Perri.
Let Dr. Perri of Perri Dermatology Give You a Customized Acne Treatment Plan Today
With so many years of experience, and as an active member of the Diplomate of the American Board of Dermatology, the Fellow of the American Academy of Dermatology, and the Texas Dermatological Society, Dr. Perri knows just how to apply acne treatment to your trouble areas in such a way that will benefit you individually.
To get started, call his office today at (281) 943-2749 to book your first appointment.