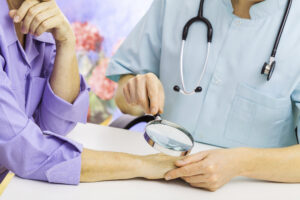 Sometimes it seems like Botox®, chemical peels, and facelifts are all anyone talks about in dermatology these days. Of course these treatments have their place and there's nothing wrong with having them done, but what if you need a dermatologist who's truly focused on more serious or complex skin conditions? Dr. Anthony J. Perri has dedicated his practice to treating people just like you with unmatched compassion and skill.
What Sets Perri Dermatology Apart?
Some say that personal motivation is the best catalyst for producing outstanding work – this is something Dr. Perri has firsthand knowledge of. His interest in dermatology began when an early diagnosis of melanoma saved his father's life, and ever since then, he has poured his heart and soul into doing for others what was done for his father all those years ago.
The most common things patients notice about Dr. Perri and his practice are:
Flexibility and Convenience: Perri understands you have a busy schedule, but he also knows that, with certain conditions like skin cancer, a few days can make all the difference. Perri Dermatology offers flexible weekday hours to help accommodate you and make sure you aren't waiting weeks or even months for an appointment.
Compassion and Caring: there's nothing worse than going to a doctor who is not gentle with procedures. Aside from the discomfort and pain that skin conditions can cause, there's a whole other side that many miss – the emotional side. Whether you're dealing with anxiety over a growth or self-consciousness from acne, Dr. Perri and his staff do all they can to make you feel comfortable.
Professionalism and Expertise: among other things, Dr. Perri is a Board Certified Diplomate of the American Board of Dermatology, a Fellow of the American Academy of Dermatology, and part of the Texas Dermatological Society. Because his primary focus is on treating skin conditions rather than cosmetic dermatology, you can count on him to give you the highest level of care during your treatment.
Don't Just Take Our Word For It
Of course, we think we're the best because it's what we strive to be every day, but we understand that choosing a dermatologist is an important personal decision. Ask around, talk to your family and friends, and even come in for a visit if you like – we want you to be comfortable with the people providing your care. If we can answer any questions for you prior to scheduling an appointment, please feel free to give us a call. We're happy to help.
Looking for an outstanding dermatologist? Dr. Anthony J. Perri and his staff are compassionate, professional, and flexible to meet your schedule. Call us at 936.522.4966 to schedule your appointment today.